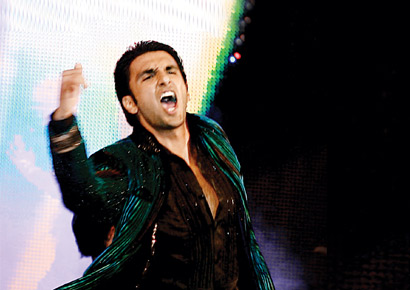 Ranveer Singh
Actor Ranveer Singh, who is currently busy shooting for director Vikramaditya Motwane's ambitious project Lootera, has managed to garner more respect among the crew and cast ofthe film.
Ranveer may sport a fun-and-games kind of an attitude but it appears that the actor is one of the most enthusiastic and hard working person from the entire unit.
A source from the sets informs us, "The film has an early morning shooting schedule. And to everyone's surprise Ranveer is the first one to land up on the set. The actor turns up not only before his cast members but even before most of the crew members. His passion can be observed through his commitment towards the shooting."
Recent reports suggested that the film's unit hardly got any sleep as it took them a lot of time to travel from where they were staying to the shooting location. "Despite his vigorous schedule, Ranveer would still make it a point to always entertain the huge crowd gathered to see him on a daily basis. He even danced to the tunes of Band Baaja Baaraat for the cheering crowd. Within no time he managed to become the darling of the Purulia district!" the source adds.
Talking about Ranveer and the delay of the film, producer Vikas Bahl says, "A lot of time had been wasted earlier due to the weather conditions and other hassles. So in order to meet our deadlines and the release date, the entire unit was requested to speed up things. And Ranveer, being extremely professional, always managed to reach the sets with hair and make-up done even before the unit was ready. His enthusiasm was extremely motivational for everyone. This made the vibe on the sets very positive."