STORY HIGHLIGHTS
NEW: Nashville authorities drop charges against protesters
Oakland, California, police tear down Occupy tents and make arrests
City officials across the country are raising concerns about public health and safety
Philadelphia's mayor: "Occupy Philly has changed"
San Francisco (CNN) -- Police in riot gear moved into the Occupy Oakland encampment early Monday, tearing down tents and arresting some protesters, the latest effort by city officials across the country to gain control over a movement that some leaders say has become a public safety and health threat.
Oakland, California, officials had warned protesters to move out of Frank Ogawa Plaza over the weekend. Police massed in the predawn hours Monday, surrounding the plaza and lining up in the streets where protesters had gathered.
Images from CNN affiliate KGO showed police tearing down tents in the square, which was apparently mostly empty by the time they arrived. Video showed some protesters being led away in handcuffs. A police spokesman confirmed that some protesters had been arrested, but he declined to say how many or on what charges.
The order to vacate the plaza came on Saturday, a day after a "frequent resident" of the camp allegedly shot and killed another man.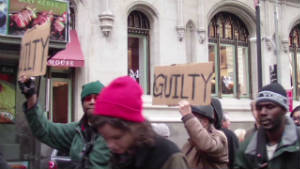 Occupy protesters - who are they?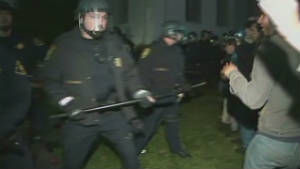 Riot police vs. Occupy protesters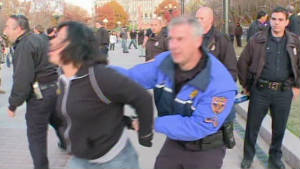 Occupy Denver protests erupt in violence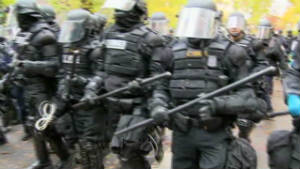 Police break up Occupy Portland protests
Before police moved in, protester Tania Kappner told CNN affiliate KTVU that protesters had no intention of leaving.
"The camp is prepared to defend itself and, I mean, obviously the police have been very brutal in the past and that is a concern," she said Sunday night. "But people are still here, people are saying, you know, 'We are not going anywhere.'"
The developments in Oakland come amid rising concern from city officials around the country that the protests drain resources and threaten public health.
In Portland, Oregon, police in riot gear and protesters faced off Sunday after Mayor Sam Adams said that "a series of increased drug overdoses, ... an arsonist that used the camp as camouflage and almost a 20% increase in crime surrounding the encampment" prompted officers to act.
"All of us are working really hard at keeping the peace and protecting freedom of expression," Adams told CNN. "I support a lot of what the encampment stands for. ... (But) it shouldn't be focused on Port-a-Potties and tents and encampments attracting criminal elements. I think this movement needs to evolve."
What started as the Occupy Wall Street movement in New York in September has spread across cities worldwide as a call to action against unequal distribution of wealth and other causes.
In Philadelphia, Mayor Michael Nutter said Sunday that what started as a peaceful protest 39 days ago has given way to increasing public safety and public health concerns.
"Occupy Philly has changed," Nutter said. "We're seeing serious health and safety issues playing out on an almost daily basis. ... The people of Occupy Philly have also changed and their intentions have changed. And all of this is not good for Philadelphia."
A woman reported she was sexually assaulted Saturday night in a tent at the encampment, Nutter said. CNN affiliate WPVI reported a suspect was arrested in the alleged assault.
The mayor also cited the threat of fire near historic City Hall and concerns about litter, public urination, defecation and graffiti.
Numerous reports of thefts and assaults in the encampment have been made, and 15 emergency medical runs were made between October 6 and November 11, he said.
Also, a maintenance project is set to begin soon at City Hall, one of several, he said. A $50 million renovation is planned for Dilworth Plaza, where protesters have camped.
Occupy Philly's general assembly voted Friday night not to move from the plaza, and members have not responded in recent weeks to expressions of concern from the city, which has repeatedly tried to work with the protesters, Nutter said. "Many of the people that we talked to in the beginning of this event and activity are now gone," he said.
"We have things we need to do," Nutter said. "I understand that they have things on their mind as Americans and wish to express their free speech. I understand that, I get that, I've defended that. The things we're talking about, the activities that are going on, are not about free speech. They're public health and public safety concerns that have nothing to do with Wall Street and corporations."
The protesters are "purposely standing in the way of nearly 1,000 jobs for Philadelphians at a time of high unemployment," Nutter said. "They are blocking Philadelphians from taking care of their families."
"Misconduct is not about free speech," the mayor said, "and the behavior we're now seeing is running squarely into the needs of our city government that also represents the 99%. As mayor of the city of Philadelphia, I represent the 99% also."
In Oregon, police made more than 50 arrests Sunday as they cleared two parks -- Chapman and Lownsdale Square -- of protesters.
Portland police called in reinforcements from surrounding jurisdictions, and more than 300 officers took part in the sweep -- which went off without incident, authorities said.
In Denver, police arrested three protesters on Sunday, a day after taking 17 people into custody in a dispute over clearing furniture and tents that city officials said were blocking a right of way.
In Salt Lake City, police said on Twitter that 19 people were arrested Saturday night as authorities moved in to clear an Occupy Salt Lake encampment at a downtown park.
Police had ordered protesters to leave the park after a man was found dead late Thursday night. The cause of death was thought to be carbon monoxide poisoning and a drug overdose, CNN affiliate KSTU reported.
"We can no longer tolerate individuals camping on our streets," Salt Lake City Police Chief Chris Burbank told reporters.
However, "only camping is over," Mayor Ralph Becker's office said on Twitter -- protests can continue at the park. Protesters would be allowed to have a 24-hour presence and one building, but the tents had to go, KSTU reported, citing authorities.
Since camping began at the park, "local law enforcement has responded to a dramatically increased amount of criminal activity in the park and has made over 90 arrests in the area since early October," Becker's office said in a statement.
In Nashville, authorities dismissed charges against 55 Occupy protesters who had been given trespassing citations. The protesters had been demonstrating at the state Capitol grounds.
The prosecutor in the case asked that the charges be dismissed, and the judge agreed, Tennessee General Sessions Court administrator Warner Hassell said.
CNN's Shawn Nottingham and Rick Martin contributed to this report.